Balance Bike 3in1
Ages 1 - 5, 85 - 110 cm
Balance bike with the longest lifespan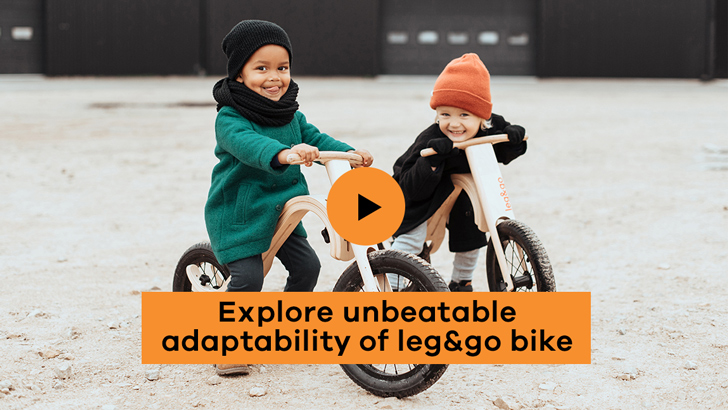 Egons Garklavs, Chief Designer and creator of leg&go bike:
"It's crazy how many disposable things are constantly produced in this world. I decided to do it differently – to create a bike that grows together with its rider, so that the parents shouldn't buy a new one after a year."
Watch them grow together
25 CM
Exclusive bike features
Super Light
The bike is very light - only 3.3 kg /7.2 lb (~20 % of child's weight) which makes handling the bike really easy. The lightweight and natural wooden design definitely stands out among other bikes.
Innovative design
It has inflatable tires, light rims and metal spokes – just like a real bicycle! With 30 years of experience in engineering, the designers of the leg&go bike have found the ideal balance between all the factors – bike size, weight, geometry, width and price.
European based
Baltic Birch grown in Northern Europe makes the bike remarkably durable. The same moulded plywood we use in our bikes has been famously used in everything from design furniture to aviation.
Sustainable and Biofriendly
Made of natural and renewable resources – harmless to your child and sustainable. Due to its customizability and adjustability, it not only saves the parents from purchasing 2 to 3 different bikes.
Natural suspension
through an intelligently designed wooden frame that safeguards your child's spine on bumpy roads. In case of a fall, the wood partially absorbs the impact, preventing, or significantly reducing, the severity of injury.
Specs
WHEELS: alloy hub, wire tension-spokes with alloy rim, pneumatic rubber tyres
WHEEL DIAMETER: front 14", rear 12"
FRAME AND FRONT FORK: lacquered birch plywood
SEAT HEIGHT: 25–47 cm / 9.8"–18.5"
BIKE LENGTH: 95.4–99 cm / 37.6"–39"
WEIGHT: 3.3 kg / 7 lb
SUITABLE FOR AGES: 1 to 5 years, 85 - 110 cm / 33.4"–43.3"

Healthy child development
Extensive size adjustment options ensure ergonomic riding for the child.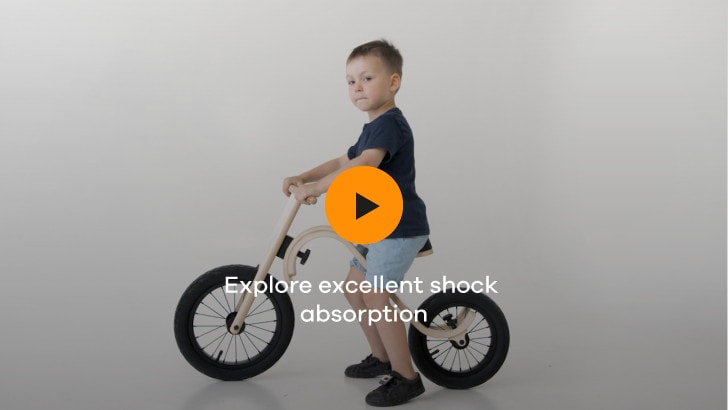 The curved wooden frame construction provides excellent natural shock absorption and safeguards the child's back on bumpy roads – very important while your little one is growing.
Balance Bike teaches so much more than just balance. It is also about exploring the world and building self-confidence with every little victory.
Strong enough for a trip around the world!
To test how durable it is, leg&go went on a long and wild test ride – going 40 075 km (24 901 mi) in 312 days.
The experiment took place in a specially constructed "wonder machine" imitating bumpy roads and a 30 kg rider. In real life a trip this long would take it around the planet! And the only thing that needed changing at the end of the experiment were the worn-out tires – the rest of the bike was as good as new.
5-year warranty
Ships same or next day Worldwide
4 – 6 business day delivery in Europe
Made and designed in Europe
Balance bike transformation
Add-ons
For even more transformation and fun
Pedal Bike
Add-on


Rocking Elephant
Add-on


Tricycle
Add-on


Downhill Bike
Add-on


Having trouble choosing?
To make it easier for you we have created these bundles – they will save you some headache, and money, too.